Table of Contents

Rose Fire, Ltd. is a nursery specializing in the propagation of antique roses on their own roots. We propagate all of our roses from cuttings and they are offered in 1 gallon pots with well established root systems. Just plant them and keep them well watered for the first 6 weeks, and you will be rewarded with roses that can last a lifetime. We grow over 200 different varieties. Many are still under evaluation and they will be showing up on these pages in the future. What we offer now, has proven to stand up to Ohio's cold winters, and the hot humid dry summers of the Midwest.
Inspected and licensed by the Ohio Department of Agriculture.
We will begin shipping for the 2024 season the first or second weekend in April (weather permitting) through June. Please note, we ship USPS and the Post Office does not use heated trucks. It may be warm enough where you live to plant roses, but it can be too cold in northwest Ohio to safely ship plants. Shipping will resume for 4 weeks after Labor Day.
We will be open Sundays 1:00 pm - 5:00 pm and all other times are by appointment, please call 419-388-8511.
We will be adding all of the roses we grow over the next year or two.
Roses make ideal gifts for all the special occasions in life - Valentines Day, Mother's Day, Birthdays, or just to say I care. The bushes can last a lifetime. Check out Gift Certificates on the Order Information page.
Please use the Navigation Frame on your left to find information in our web site. Clicking on the logo at the top of the Navigation Frame will bring you back to this page.
Our Availability List is listed in alphabetical order, organized by class, by color, and by size to help you find the perfect rose more easily. Our Availability List is a work in progress. We had excellent results during our propagation season. We have many more roses under consideration and will be adding then to our Availability Lists as they mature.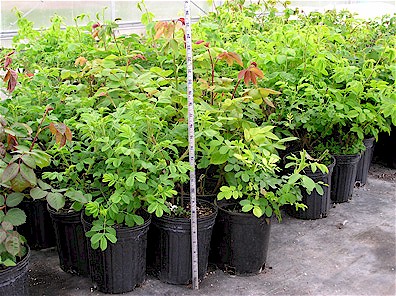 Here is a picture that was taken on April 9, 2004, that shows some of our plants in the greenhouse waiting to be shipped. As you can see, we ship plants that are leafed out. Many of our roses will be in bud or in bloom when we send them to you (especially late April and May shipments)
This link will open a copy of our order form in a new window on your browser. We suggest printing it, so you have it available as you browse our site. Additional ordering information and shipping charges are available by clicking the Order Info on the right. Order Form
Navigation Notes: if you click on the logo in the upper left at any place in our site, you will return here, to our Table of Contents.

Shipping Notice: We will begin shipping for spring delivery after April 1, 2024. weather permitting through June. We will begin shipping again after Labor Day through mid October..

Rose Fire, Ltd.
09394 State Route 34
Edon, Ohio 43518

Phone: (419) 388-8511 (please leave a message if we are not available).

Page maintained by Rose Fire, Ltd. and last updated on 12/16/2021